At the beginning of your freelancing career you might ask yourself what the buzz about business accounts is. Why go through the effort of splitting your funds in the first place? The truth is that a business account can make your life much easier. Let German efficiency inspire you!
Why should I have a separate business account?
There are a number of good reasons to separate your private funds from your business funds.
The first and most important reason for a separate business account is transparency. Splitting your private and your business account makes your accounting clearer for the tax authorities and makes it less likely that your books will come under the radar of the infamous Finanzamt for an audit. Also, if your business transactions are clearly separated from your private funds, the tax authorities can only audit your business account. In order to view details from your private account, they would have to get additional permission from a court.
Separating your private and business funds also helps with overseeing your financial situation and keeping track of cash flow. You will know at all times what money is really yours to spend and what funds are needed to run your business. No one wants to weed through their supermarket transactions, Spotify subscriptions and Amazon purchases to find that pesky software purchase you made two months ago for work.
Finally, there is the good old work-life balance. Especially at the beginning of your freelancing career, it can be tough to separate your work from your private life. Flexible working hours or working from home can blur the boundaries between on and off time. Checking your account balance and seeing business transactions next to your private funds is a constant reminder what you shouldn't be thinking about in your free time. Separating your work and private life brings clarity, especially when it comes to your finances.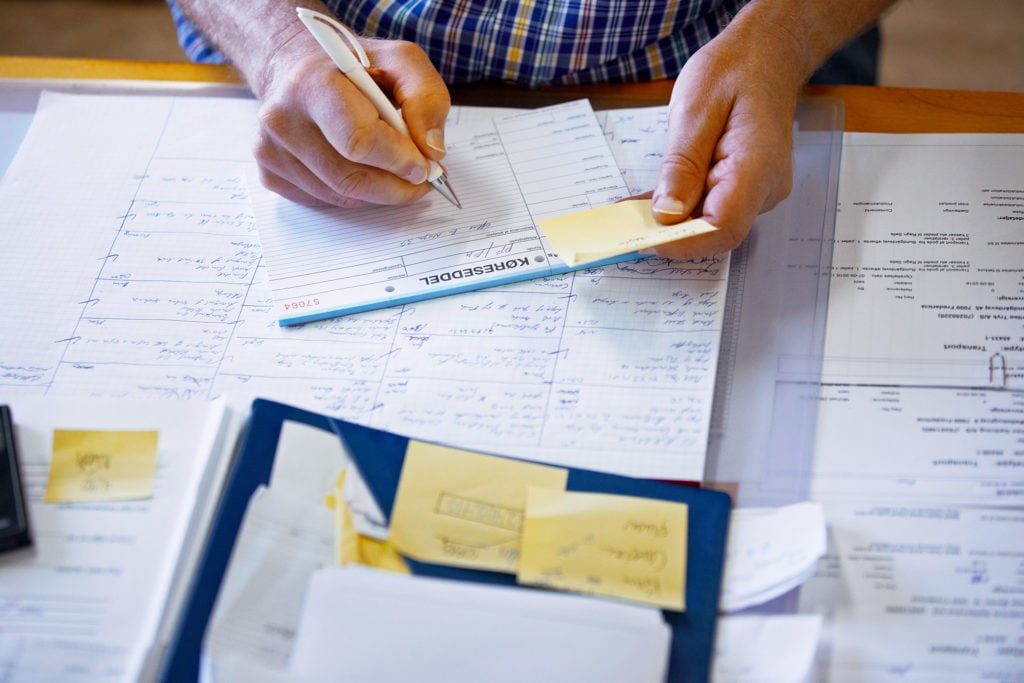 What options do I have for a business account?
There are two basic options for a business account. You can go for a free business account, or for an account with a monthly base fee.
A free business account may be free from a base fee, but it might not be completely free to run. Instead of a base fee, you might be charged a slightly higher amount for single transactions or other services. Extra fees for cards are also standard if you don't pay a base fee. That doesn't necessarily mean that your bank is trying to rip you off, though. A free business account can still be the cheaper option for you, if it fits your needs.
The other option is a paid business account. When paying a monthly base fee you can expect transaction costs to be lower than with a free account. Also some extras might already be included in your account at no additional cost, such as a business credit card. A paid business account can turn out to be the cheaper option, especially if you use it intensively.
Holvi offers both options, a free and a pro model.
Should your needs change you can always adjust your model flexibly. Our free account already comes with extras such as real time mobile banking, our integrated, paperless bookkeeping, easy invoicing and an online shop, while our pro model comes with the same extras, plus 50 included transactions and a Business Mastercard.
If you can't decide which model suits you best beforehand, no worries! We offer a free 6-month trial for the pro version, so you can test out your needs.

How to choose?
It's best to calculate your personal cost/benefit ratio for both models. It is crucial to know what you'll need your account for.
If you don't have many transactions every month, a free account sounds perfect for you. If the cost of your few transactions won't exceed the base fee, why pay more? The same goes for the opposite. If you have a higher number of transactions a month and their costs exceed the cost of the base fee, why pay more?
If you are not sure which option to choose or you can't tell how many transactions you'll have, just try out our pro account and see what suits your needs better. There's no minimum contract period, so you can easily downgrade to our free account at any time, or stay with pro. No matter what model you end up with, you will have access to our bookkeeping tool, an invoicing tool, the real time mobile banking app and your own online shop.
Make your life easier by trying out a business account. You can thank us later ;)
---
Holvi offers an online current business account for freelancers and small business owners — the first of its kind, with an app and an end-to-end platform. Besides traditional online banking features, Holvi is equipped with handy tools for online sales, invoicing and paperless bookkeeping. We're a modern money service for the new wave of digital nomads."