Did you know the average small business spends 15 hours a week on financial admin? That's a whopping 19% of your time eaten up by paperwork – each day, week, month and year.1
That's why we created the Stressless Challenge: to help put an end to the unproductive, mind-numbing paperwork that threatens to snuff out your entrepreneurial spark.
So how does it work? Easy. We'll show you how to manage receipts electronically with Holvi. You can try it out and win 1 year free of Holvi Pro (a value of €144 + VAT).
🧾 Losing track of receipts?
Another receipt, and another… and another. These small things pile up in your wallet and mailbox – and eventually end up on your desk, then in folders – or worse, a shoebox.

It doesn't need to be this way.
How to store your receipts
Depending on where your business calls home, you'll need to store receipts for 6 – 10 years. However, the days when every receipt had to be kept in paper form are over.
Today, you can store receipts electronically, provided they're:
Legible
Can't be altered
Can't be lost
In Germany, receipts must be stored for 10 years.

In Finland, receipts must be stored for 6 years.

📱 Snap and save receipts in Holvi, forget the paperwork
So what can you do to save yourself the hassle of paperwork? Simple. It's 2022 and we do pretty much everything online. Now you can save your receipts electronically, too!
Stay tax ready, even when you find a soggy receipt in the wash.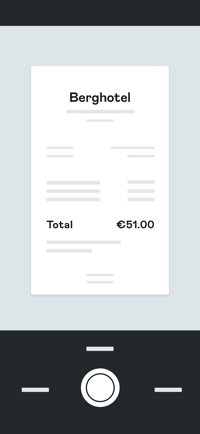 Saving and storing receipts is easy with Holvi:
Pay: After each card payment, the Holvi app reminds you to add the receipt – make sure to have push notifications enabled in your settings


Scan: Snap a photo of your receipt with the Holvi app. It'll save as an attachment to the transaction in your Holvi business account


View: In your transaction list, you can find and download individual receipts at any time. You can also add other attachments, like notes


Export: Use the Dropbox export function to download all transactions and receipts as a PDF
Once your receipt is saved in Holvi, you can forget the original paper receipt, for good.
Or upload a receipt later
You can also upload a receipt to individual Holvi transactions on your computer.
Log in at Holvi.com
Go to Transactions
Select the transaction you want, then scroll down to Attachments
Drag and drop your receipt file or hit Add attachments to select a file
🎊 Scan 2 receipts, win 1 year of Holvi Pro – Extended to 16 March
Have we got your attention? Here's the scoop. We're rewarding your entry into the world of digital receipt management with a chance to win big.
On top of handling expenses more efficiently and staying tax ready, you'll be entered in a draw to win 1 year of Holvi Pro completely free!
Holvi Pro is our all-in-one account with invoicing, e-invoicing, expense management and bookkeeping features that help you simplify work life and stay tax ready. Plus you can add on an all-new business credit card.
Stressless Challenge runs until 16 March 2022.
How to win:
Fill out the form below by 16 March 2022 to enter
Make at least 2 payments with your Holvi Business Mastercard® or Holvi Business Credit Card between 23 February and 16 March 2022
Upload a receipt for both card payments – or scan it with the Holvi app
Start the Stressless Challenge
Share your Stressless selfie!
Are you in? Tag @Holvi in your instagram story showing us your best stressless selfie. Show us how you calm receipt chaos.
1. Accountancy Age – Micro business financial admin