Virtual cards are growing more and more popular. What are they and what's behind their recent spike in popularity? In this article, we look at the many uses and benefits of virtual cards.
First off, what are virtual cards?
Want to create a brand new bank card and use it instantly? Of course you do.

Virtual cards work exactly like your physical card – only they live in your banking app and e-wallet, not in your actual wallet. Virtual cards are secured by encryption and offer a secure, easy way to pay online, in apps and in stores. Each virtual card has its own card number, CVC and expiry date, keeping it totally separate from your main payment card.
More and more payments are happening online
In the past, bank cards were made for on-the-go shopping: in real stores, on business trips. But now it's 2022 and card usage has shifted increasingly online.
Ordering food, in-app purchases, clothing, tickets, subscriptions. It's ridiculously easy to find what you're looking for online, and pay for it fast.
Now you can type in your card number – or, with cookies turned on, choose your card and type in your CVC – and in some cases confirm the purchase in your banking app. No more chip and PIN, and no need for a plastic card. Most banking apps now show your card details, rendering a physical card practically obsolete.
Why so popular? Virtual cards are perfect for online payments
Today, most online banks offer virtual cards on top of plastic payment cards. Some neobanks are even offering exclusively virtual cards – which, when paired with Apple Pay and Google Pay, offer almost the same functionality as plastic cards.

Before launching our own virtual cards for the self-employed, we surveyed our customers to learn about demand. And the results were promising.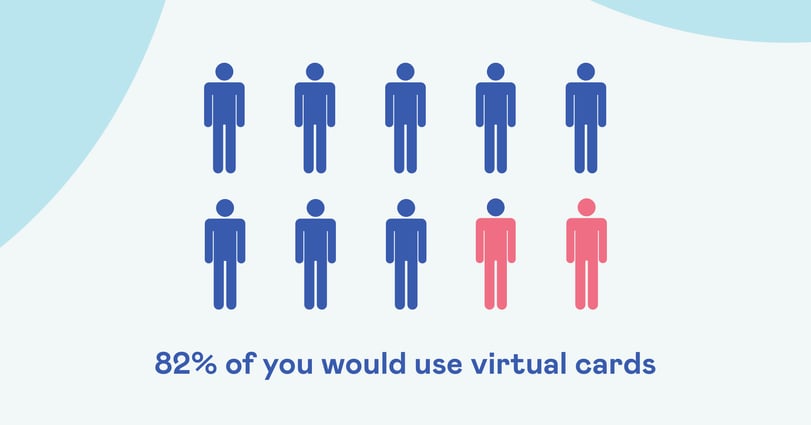 82% would 'very likely' use virtual cards. Taken from Holvi customer survey results, July 2022
What are the benefits of virtual cards?
1. Virtual cards are instantly available
Why wait for a plastic card to arrive in the post? Virtual cards arrive instantly in your banking app, fully activated and ready to use. You can use it right away for online payments – or add it to Apple Pay and Google Pay to make in-store purchases seconds after creating your card.
2. Protect your main card details
Each virtual card has its own card number, CVC and expiry date. It's completely separate from your other banking cards. If a virtual card is ever compromised, you can cancel it without losing access to your main card. No rescheduling payments or switching subscriptions, no headaches.
3. Split expenses across cards, budget better
A different card for each purpose. Use your physical card for in-person spending, like business trips and cash withdrawals. Then use virtual cards for individual projects, subscriptions, software licences, etc. It's a great way to keep track of your spending – and you can manage each card's settings separately.
4. Empower employees with team virtual cards
Booking flights for a team getaway? Say goodbye to passing around that one plastic company card. Sharing card details is never a good idea and virtual cards offer a smart solution. Create individual virtual cards for each employee and let them make their own purchases. Empowered employees, secure payments. It's a win-win!
Virtual cards come in all shapes and sizes
From disposable cards that automatically deactivate after one use, to virtual prepaid cards that let you load money on to them in advance, to virtual cards with changing card numbers (yes, those really exist!), there are all types of virtual cards.
Holvi offers two types of virtual cards for the self-employed:
Virtual debit cards – Can be created instantly. Payments are debited from your business account and transaction details can be exported as usual to the accounting software or to the tax advisor.
Virtual credit cards – Can be created instantly after signing up for a Holvi credit card. Payments are made from an individual credit line, and can be repaid flexibly over time. Use your credit card to cover short-term gaps in cash flow or make smart investments.
So what do people buy with virtual cards?
Before bringing our virtual cards to life, we asked our customers what they would use them for. Here's the inside scoop!
One-off online payments
Online subscriptions
Advertising on social and search engines
Business trip expenses
Office supplies
Our customers value the security element of virtual cards above all else. Being able to make one-off payments to specific online sellers was the most common use.
Pro tip: With Holvi, you get at least one free virtual card with any plan. You can cancel your virtual card anytime – and, once cancelled, order a new one. So you can create a card, use it to buy online, cancel it, and create another instantly. It takes only seconds, and makes your account virtually immune to card fraud.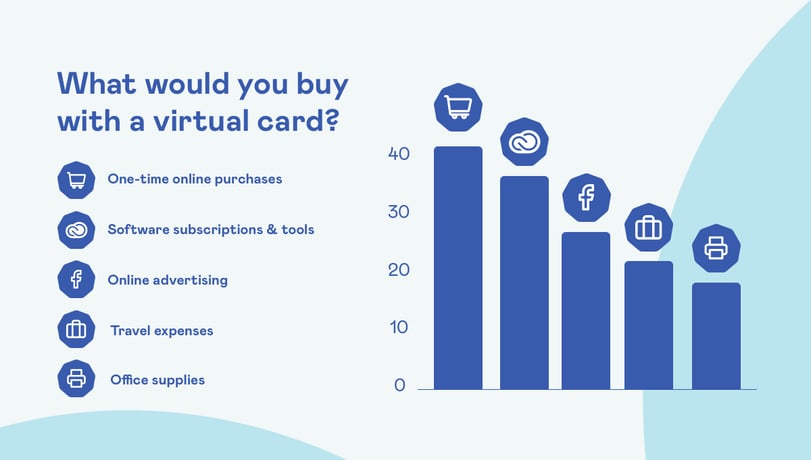 Do we still need traditional plastic cards?
Virtual cards are perfect for online payments, but what about buying things in shops? Well, with the widespread use of e-wallets – like Apple Pay, Google Pay and Samsung Pay – digital payments are now common in brick and mortar stores. In fact, depending on where you live, this may already be the norm.

Electronic wallets enable you to pay wherever contactless payments are accepted. You can pay with your smartphone or smartwatch, replacing the need to always carry a plastic payment card.
Mobile wallets bring virtual card payments into stores
And now you can add virtual cards to your e-wallets, giving you even more options to pay. Just hold your NFC-enabled device up to the payment terminal. Your payment will go through using a token: an encrypted digital version of your actual payment card. This is not only convenient, but also more secure. Your real card data is never shared with merchants.
To sum up – Safe, fast and virtually unlimited possibilities
Will the rise of virtual cards eventually make using plastic credit and debit cards a thing of the past? With new challenger banks offering only virtual cards, some businesses clearly think so. This is good news from an environmental standpoint, as it removes the imprint from producing and mailing cards around the world.

Doing away with plastic might take a few years – we still haven't seen the creation of ATMs with virtual card readers. But with almost unlimited ways to use virtual cards, it's not hard to imagine this happening soon.

In the meantime, virtual cards will continue their rise to fame, with more functionality, versatility and security built in. At Holvi, we're already working on it.