When some people hear 'self-employed' they think free time – hours spent roaming nature, at cafes and art galleries, days lost travelling or just lying in. Not many think hard work.
But as someone who's self-employed you know better.
No matter what you call yourself – freelancer, sole trader, small business owner, selfer (okay, we made that one up) – the reality is the same. Intense pressure. Long hours. Coffee and kombucha to see you through. Sure, easy living might be the end goal. But… that's not where you're at – not yet.
Self-employment means working on your own terms. And this has its pros and cons. Opening the right business account can save you a lot of hassle.
1. Spot the admin problem
As a self-employed person working today, you're going to face some challenges. On top of fluctuating income, shameless self-promotion and endless planning, you'll have lots of unpaid admin to do.
At its worst, this admin can leave you balled up in bed, pulse racing with anxiety as you ask, 'Why can't this part of my business just do itself?' Think accounting and taxes. Managing your finances takes time and effort – but unfortunately, it doesn't pull in any actual cash (at least not directly).
In summary, accounting:
Is time consuming and often frustrating
Doesn't earn you money
Sad, but true.
So how do you spend less time on unpaid work and more time doing what you love? Or at least enjoy a bit more of that free time self-employed people are meant to have? Our answer: keep reading.
Step 2. Overcome accounting anxiety
Staying on top of your business finances can be tricky. True, accounting and taxes are confusing – but with a little help you can easily overcome these challenges. Good organisation and the right online tools make all the difference. It 's 2020, and tech is on your side.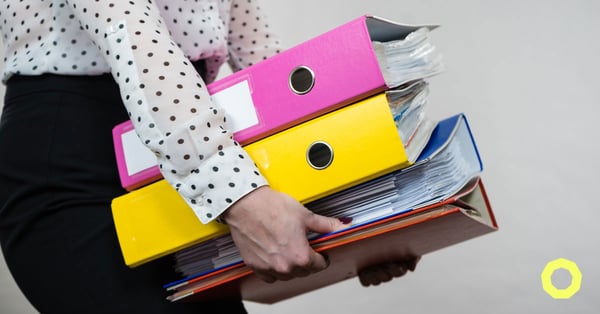 What's the smartest way for freelancers to organise their bookkeeping? One freelancer shares her story.
Managing your company – no matter how small – pays big time. Every business has its own unique plan and requirements. Start by looking for an account that offers the capabilities you need. If you're not sure what those are yet and what options are available, don't worry – we'll get to that soon.
Step 3. Separate your business and personal
Once you've sorted your needs and done the research, the next step is to open a separate business account. You don't have to, but it helps. And… it's free! (At least with Holvi.) Sure, you might want to blend the personal and professional to enjoy a freer lifestyle, but not when it comes to finances. Opening a separate business account is a key step to achieving clear financial overview and success.
Once this is done, you can easily keep track of all your ins and outs. Plus, having everything in one place makes life simple when tax season rolls around.
Step 4. Look into invoicing tools
Invoicing tools can allow you to create, send and track invoices directly from your business account. Think about where you'll use an invoicing tool – at home or on the go – and choose one that's accessible via app or desktop (or both).
Other useful features to look for include:
The ability to attach payment details from your customers and inventory (Who was this for again? And for what product or service?)
When creating an invoice with Holvi, you can attach your payment details with just one click. Your clear, professional invoice is created instantly – and you can send it directly from your account.
Step 5. Consider payment card capabilities
What types of transactions are you making?
Maybe you're always travelling abroad (lucky you) and need to pay in a foreign currency. Or maybe you take out a lot of cash. Or hardly use your card, and only need a business account to receive payments and make transfers. Different accounts offer different capabilities, and finding one that suits your individuals needs is key.
With Holvi, you'll receive the free Holvi Business Mastercard® when you open an account. You can use your card to make payments and withdraw cash anywhere in the world Mastercard is accepted.
Some other useful features include:
Snap, save and store expenses using your smartphone. With each payment you'll get a notification reminding you to snap a photo of the receipt and post it
Tag your purchases with important payment details, like 'Rail travel', 'GoogleCloud' or 'Briefing cocktails'
Step 6. Oversee your business finances
It's all about user experience. That's your experience. How easy is it to view your cash flow? Maintaining a constant awareness of cash flow is crucial – for obvious reasons.
For a quick and clear overview of your ins and outs, check out Holvi's home view. You can see income and expenses in graph form. Data visualisation at its finest. It shows you what money is coming in and going out, and when. Use this real-time tracking and forecasting to plan smarter and always stay one step ahead of the curve.
Step 7. Stay tax-ready
Tax season hits every year. And when it does, Holvi wants you to be ready. Keeping accurate digital records of your ins and outs makes tax prep a breeze.
But more than this, Holvi wants you to understand exactly where your business is at financially – at any given moment. Understanding this is key to self-employment success.
By following these 7 steps, you'll be well on the way to self-employment success! We know you might feel alone sometimes. But trust us, you're not. Today, over 32 million EU citizens are self-employed. Here at Holvi, we make life easier by helping you organise your small business finances – so you can focus on your work.
More than a banking service, we're a full-time collaborator. So you never have to work alone.
Click here to read more about Holvi's features.