This is a guest blog post by iZettle. The Swedish company iZettle offers a card reader that works with your smartphone or tablet, plus a suite of financial services for the small businesses.
Have you just opened your shop or launched a new line of products? To get featured in a blog with thousands of followers who are potential customers might give you a boost in sales beyond your dreams!

According to an article on Mashable.com, The Kardashians charge $400,000 to post a photo on Instagram. The concept of influencer marketing has skyrocketed and become big business. You're not a big business, so why should you care?
Well, because there is still huge potential in using social media authorities and bloggers (like bloggers who are real people with a reasonable amount of followers, instead of The Kardashians).
In fact, studies have shown that influencers who don't just push out content but have conversations are the ones who drive action, not just awareness. In other words, more purchases!
In this article we share some tips for how to capture the interest of a blogger or a thought-leader in social media. As competition in this field increases, we play on some classic attention captivating techniques from story-telling and the public relations field. In case you still don't buy into influencer marketing, read Erwan Derlyn's previous article on the subject.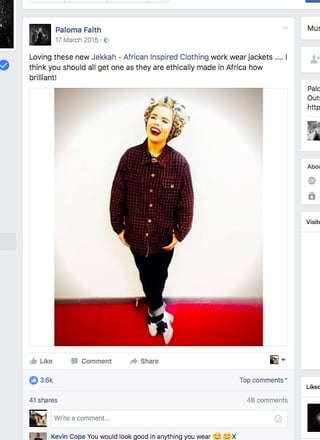 The first big break for iZettle user JEKKAH happened when Paloma Faith mentioned them on Facebook.
1. Create an engaging story
Bloggers, newspapers and magazines love great stories. By doing a bit of their job and submitting a complete story – you boost your chance of cutting through the clutter and reaching the blogger's loyal audience.
Well, how do you create a great story? A PR consultant would say: what's your angle? We say, highlight what's typical for you and your shop and products! Is it you being:
Local? Are you a promoter and supporter of the local community? Maybe your products are produced within your county? Or you're a supporter or even organizer of flea markets where you sell your products, then emphasize how you contribute to the local economy.

New? Maybe you're among the first people in the area to vend a new type of apparel or clothing? Describe how you you're introducing a new trend and reveal the engaging story behind it.

Funny, unique – maybe a bit weird? Is your shop the smallest in town? Are you the oldest guy running a shop on your street? Having the most limited opening hours? Or the friendliest and least profitable loyalty program? Embrace it and create message around it!
How to find (and track) relevant bloggers
BuzzSumo. Register at this search and reputation management platform – go to the influencer tab type and go nuts! BuzzSumo is one of the best and most credible influencer marketing tools.

Klout. If you've found a specific blogger, check out their Klout score. An aggregated value of interactions in social networks to reflect the person's online influence.

Google. Use the number one search engine to track recent online activity of relevant bloggers or influencers you've found. Go to Tools - click on Anytime - and select the past month or week to find out if they've been featured. You'll come across a bunch of other relevant blogs and websites you potentially can approach.
Don't forget …


To have media kits ready to send out to relevant bloggers – including high resolutions photos of your logo products and yourself. For tips on how to take better pictures, check out our previous guide.

To set products aside, to send (or lend) to bloggers.
2. Be yourself (a.k.a. authentic)
Don't act like a PR professional. The fact that you're neither H&M or Forever 21 is exactly what makes you stand out. Try to be authentic – be yourself! Successful bloggers as well as newspapers and magazines love authentic people. Share what you've learn along the way and what keeps driving you to continue.
3. Don't fear top bloggers – but remember …
Start the conversation by sending the blogger a friendly personal message. Because you're following them on Instagram, Twitter and every other social media account, stalk them (gently of course), get to know them and figure out how to approach them. Don't forget to mention why your story would be a great fit for their audience. Remember that there is mutual value in the conversation; the blogger has the audience – you have the story.
Keep in mind that higher number of followers or readers doesn't always mean better for you. Especially for Instagram, findings have shown that as the influencer's total following rises, engagement decreases.
Is there something unique or special about how your products are crafted?
4. Skip the "I have nothing to say …"
Have you been running your business for a while? Nothing new to say, really? Well, think of great things that have happened along the way. Maybe you're soon celebrating 10 years – or your Point-of-Sale tells you that you've soon sold 2,000 T-shirts? That's a headline in itself!
5. Trim social + share your own blog
Most bloggers hang out on Twitter and Facebook (the ones who don't probably won't help you anyway). Make sure that your Facebook page is good-looking and up-to-date so they easily can find you.
Maybe you're running a blog at your shop's website – specialised in something that's very niche. Perhaps you're selling shoes and have crafted a "How to care for your sneakers"-guide. Offer the guide as a guest article to a blogger specialized in sneakers – and ask them to link back to your blog or webshop!
Building relationships with powerful and relevant bloggers over time should be your ultimate goal. Stay in contact after a blogger has written about you and your products – don't forget to thank them and let them know the post impacted your web traffic and sales. Good luck!