Did you know that swordfish have a special response to cold? When a swordfish gets cold, it can vibrate its muscles and increase its brain temperature by up to 15˚c. Neat, hey? With this trick, swordfish can stay alert, move fast and flourish in cold deep seas.
Much like the swordfish, we too have gone turbo. Here's our update from the last few months:
Faster SEPA transfers, so your money reaches its destination quick snap. Virtual cards for safer online payments and better spend management. And increased spending limits, so you can handle higher transaction volumes and invest in your business.
💸 Faster SEPA transfers
In October we updated our payments infrastructure to bring you more efficient SEPA transfers. To be honest, we could write an update with lots of technical banking jargon you probably wouldn't enjoy – or we could say this:
Now you can send and receive money faster and more easily than ever with Holvi.
For reference, here are our new payment processing times.
| | | |
| --- | --- | --- |
| Payment method | When it's processed | When it gets there |
| Card payments | Every day 24/7 | Instantly |
| Online bank payment buttons (Finland only) | Every day 24/7 | Instantly |
| Inbound SEPA transfers | Continuously, with last incoming cycle at 16:45 CET on banking days | Processed in real time, arrives in your account as soon as we get it |
| Outbound SEPA transfers | On banking days, until 15:30 CET | If processed before 15:30 CET, same day; otherwise on the next banking day |
| Holvi-to-Holvi payments | On banking days, until 15:30 CET | If processed before 15:30 CET, instantly; otherwise on the next banking day |
And that's just the start. Our update lays the foundation for instant payments – something you can look forward to in the new year. With instant payments, you'll be able to transfer funds between accounts within seconds, 365 days a year, including holidays.
💳 Virtual cards for safer online payments
Last month we officially launched our new Holvi Virtual Debit Cards. What are virtual cards, you ask? Well, in case you missed the memo…
Virtual cards work exactly like your physical card, only they live in your Holvi app and e-wallet – not in your actual wallet. Secured by encryption, virtual cards offer a safe and easy way to pay online, in apps and in stores. Each card has its own card number, CVC and expiry date, and is totally separate from your main Holvi card.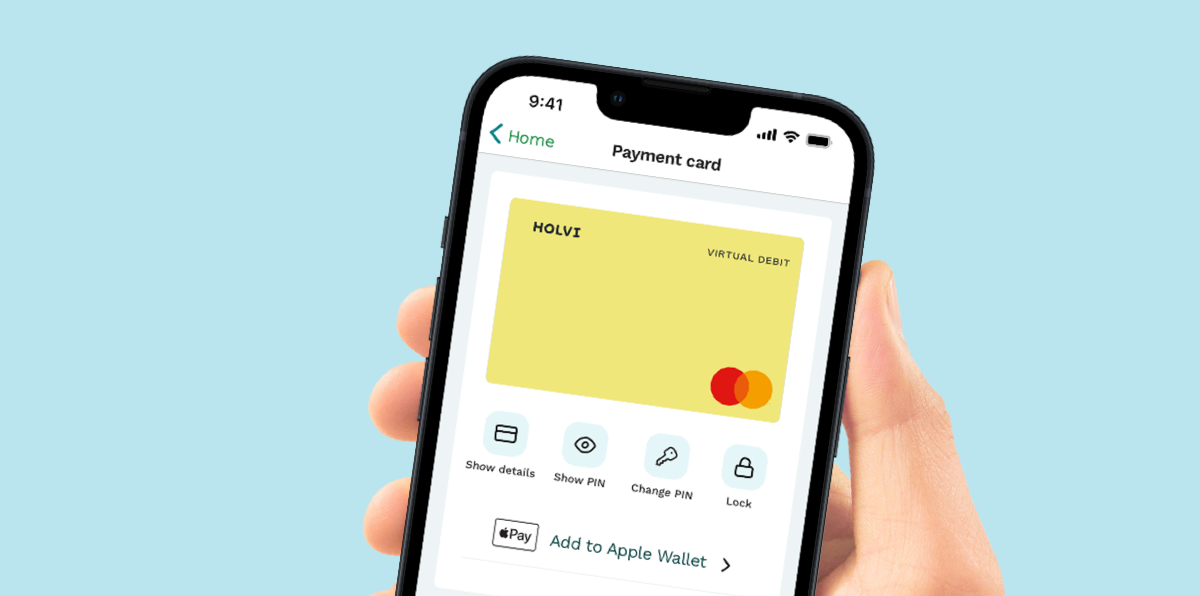 Each Holvi plan includes 1 virtual debit card, which you can use to increase security when paying online and gain more control over how you manage finances. Our blog article shares some clever ways to use your new virtual card. Activate yours in seconds and take advantage today.


You can also add your virtual cards to

Apple Pay

and

Google Pay

* for contactless payments in stores. Standard contactless limits do not apply, as transactions are authenticated by your fingerprint, your code or facial recognition. So you're only limited by your card limits, which are now higher than ever – more on that below.
⬆️ Higher spending limits
Finally, we've increased our spending limits for physical Holvi Debit Cards. Here's what has changed:
Spending limits (in stores and online)

Transaction limit

€10,000

Daily limit

€10,000

Monthly limit

€45,000

Last 30 days max frequency

200
All other limits stay the same. You can find them here if you need a refresher:
✨ Holiday teaser – Labels and custom card limits coming soon
And now for a glimpse into what's coming at Holvi. Soon we'll make it possible to label your cards – both physical and virtual – according to how you use them.
Want to create different virtual cards for different expense types, like Subscriptions, Travel or Office supplies?
Great, we've developed virtual cards for exactly this purpose. Simply create a new virtual card for a specific type of expense and keep track of exactly how you spend your money. Next, to help you keep track of your cards, we'll introduce labels that allow you to clearly name each card. It doesn't get any clearer than this!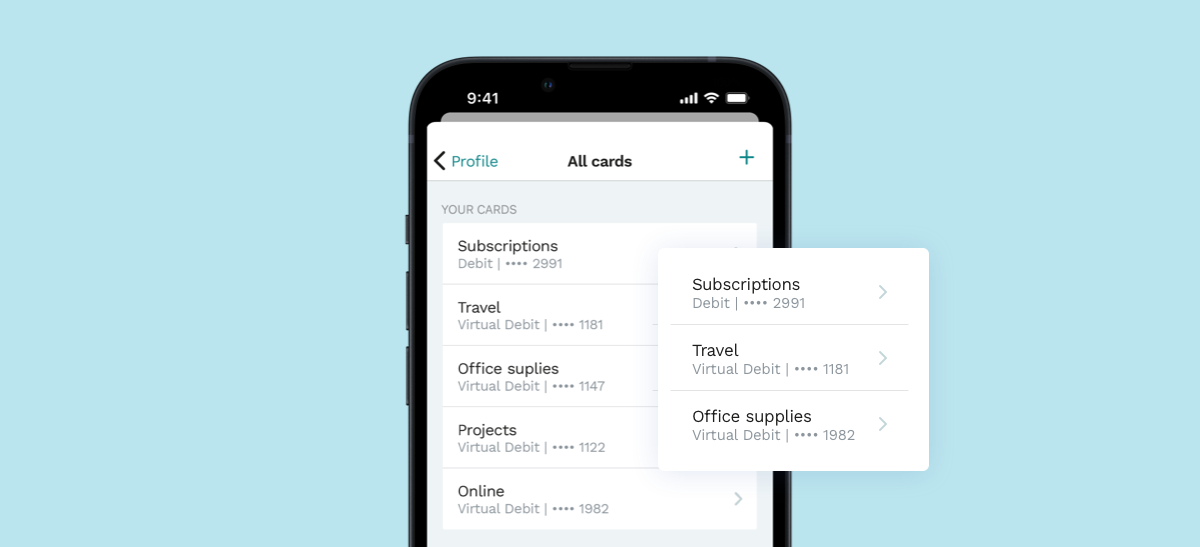 For more control over your employee spending and to increase general security around cards, we're also designing customisable limits into our cards. Soon it will be possible to set 30-day and daily spending limits on a Holvi card before you order it – and update these limits anytime in Holvi. Stay tuned for a release date.
🎁 That's a wrap!
That's it for this month, and this year. 2023 is almost here. Will this be your year?

We'll do our part to make it so.
Notes from the vault

Did you know that Holvi means vault in Finnish? We're a Finnish company with a second HQ in Berlin. 'Notes from the Vault' is our product update series, aimed at giving you the inside scoop on new features – so you can make the most of your Holvi account.

*Apple Pay and Google Pay only available in Germany and Finland