February is a tiny month, so here's a short and snappy product update for you.
We did some behind-the-scenes coding updates and in the process refreshed our UI in places. We also made it possible to update credit card terms for existing Holvi credit card customers.
In Finland, Holvi is partnering with Elo to offer YEL insurance to the self-employed. And Holvi debit cards now work with MobilePay – hooray!
🔆 We partnered with Elo to bring you YEL insurance in Finland
This month we began our official partnership with Elo to simplify how the self-employed pay pension insurance in Finland. Elo is Finland's leading provider of YEL.
On top of pension insurance, YEL covers the following situations:
Parental allowance
Unemployment insurance
Sickness benefit
Family pension
Disability pension
Partial early retirement pension
Do you need pension insurance?
If you're reading this in Finland, most likely.
With just a few exceptions, the self-employed in Finland are responsible for handling their own pension insurance. If you meet the following criteria, YEL is for you.
You own and work for your own company
You've worked as an entrepreneur continuously for at least 4 months
You make €8,575.45 a year, or about €715 a month
You're 18–68 years old
📱MobilePay now works with Holvi debit cards
Also for Finnish customers, Holvi debit cards now work with MobilePay, the popular person-to-person payment app. Add your Holvi debit card to the MobilePay app today.
🧾 New Reports and Invoicing pages
This month we touched up our Reports and Invoicing pages, including subpages for individual reports, invoice settings, payment matching and more.
We're migrating our code to Vue.JS, a progressive JavaScript framework for building interfaces. In doing so, we're taking the opportunity to freshen up some of our core user interfaces.
Meanwhile, we have a core Product-Dev team focused solely on improving our accounting integrations. Soon Holvi customers will be able to connect their account to standard Finnish or German accounting software, including DATEV.
Even with these integrations, however, our Reports page will continue to play a vital role in helping you analyse your finances and prep for tax time.

Our new layout is more visual, more intuitive and has all the information you need to make informed decisions about which reports are useful for your business.
Help Centre update 💡
On a similar note, this month we published new articles in the Bookkeeping and Invoicing categories of our Help Centre. We hope you find these articles enlightening.
💳 Use a Holvi credit card on your terms
We now have the ability to change and improve the terms of your Holvi business credit card contract. Customers in good credit standing can request new terms. If appropriate, we can offer a higher credit limit, lower interest rate or even change your instalment plan.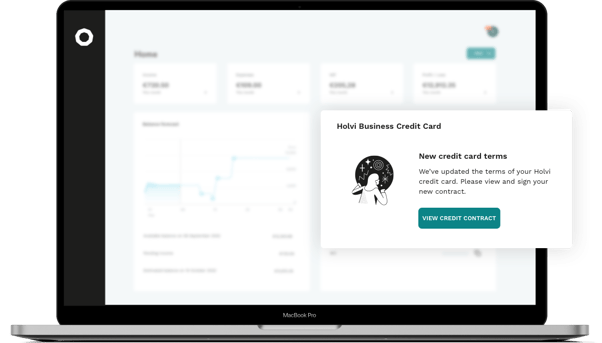 📱 Stronger device binding
Account security is our top priority at Holvi. After a series of phishing attempts last year – to which our entire team responded with effect and aplomb – we strengthened security around adding a new device.
While this sounds simple, there's technically a lot going on behind the scenes. We can't share the specifics (those are secret for obvious reasons) – but here is what it took to bring this to fruition purely on the developer side.
9 experience dev tickets
37 working hours
Product release + testing
What is phishing? 🎣
If you're not familiar with phishing, please read our article on how it works. We tell you what to look out for and how to keep your Holvi account safe.
Notes from the vault
Did you know that Holvi means vault in Finnish? We're a Finnish company with a second HQ in Berlin. 'Notes from the Vault' is our product update series, aimed at giving you the inside scoop on new features – so you can make the most of your Holvi account.