This spring, we focused on finalising and issuing our first ever Holvi credit card. We've also made improvements to our online selling experience, as requested by you! Read on for more details.
Improvements to our online store
Earlier this year we conducted a survey on our online selling feature. We received tons of responses! With these insights, we've been steadily improving our online sales platform during the spring months – but there's still lots to do.
New organisation and layout
Now you can further customise product categories in your online store. Organise items into clear groups and add subcategories – you can think of this like sections or departments in any physical store.
After all, you wouldn't want to find dried pasta in the produce section of your local supermarket. That would be odd.
Categories and subcategories improve your store's organisation, helping your customers find the products or services they're looking for quicker and easier. You can edit categories in your store settings.
Hiding stock count from your customers
Our survey showed that most Holvi customers want stock count to be visible to shoppers, so they can see how many items are available to buy. That's why we've made it visible by default.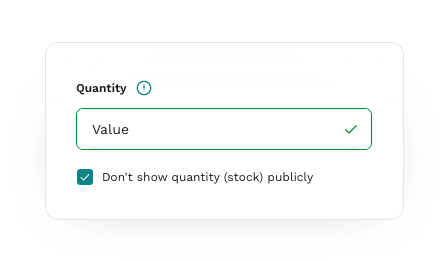 However, sometimes you want to hide stock count from your customers. So we've made this happen, too. Now you can hide stock – on all items or on individual items. Simply uncheck the new checkbox in your settings.
Changes to order confirmation and receipts
Want to save an order receipt for your own records? Or send another order receipt to your customer (for example, if they can't find the original)? Previously, the receipt had to be sent via email, but now you can download order receipts directly from Holvi. You'll find this new button right in the order summary.

We've also updated the required buyer info. In the future, your customers won't need to input a house number – so checkout will be even smoother. This change makes sense, as not all addresses include a house or apartment number.
Our new credit card is here!
The moment you've been waiting for is here. We're currently issuing our first Holvi Business Credit Cards. New cards are rolling out in batches to sole traders. So your patience will soon pay off.
Pay anything, anywhere
The Holvi credit card is here for all your business expenses, big and small – even when balance is low. Introducing your new financial cushion.
Credit card with individual credit line up to €5,000
Pay worldwide – wherever Mastercard® is accepted
Highest level of acceptance – for SaaS subscriptions, car rentals and hotel bookings
Secure online payments – backed by Mastercard® 3D-Secure and Holvi's bank-level security
Read more about the card and join the waitlist here.
Camt.052 report now available in Holvi
We've expanded our range of accounting tools with the addition of the camt.052 report.
Camt.052 is a machine-readable report that contains the same payment information as your usual PDF account statement.

Camt.052 simplifies the daily lives of DIY accountants – and it's also good news for Merit Aktiva users in Finland. You no longer need to be an accounting professional to handle accounting yourself. Holvi + Merit Aktiva automates accounting entries based on your Holvi activity.
Take care of income and expenses in Holvi
Download a machine-readable account statement from your Holvi account
Open the file in Merit Aktiva
Do your books in Merit Aktiva
Alright, we've come to the end of this month's Holvi updates. What does spring have in store for you? Only one way to find out! Let's get back to business.