Holvi product update: May 2023
Spring has sprung at Holvi! And with it comes a fresh pot of product releases to put a jump in the step of your business finances ☕ Did that metaphor work? Um, not really. Anyways, we love coffee and here's what we released this month.
Just in: Custom card limits. Now you can set and manage Holvi card spending and withdrawal limits for you and your team. We introduced card labels, a handy way to – you guessed it – label your cards for different use cases. Virtual cards for your team are now here, and so is a brand new Android app.
Introducing custom card limits
You asked for it. We made it happen. Now you can set custom spending and withdrawal limits on any Holvi card.
Ordering a card for yourself? Limits offer more security and can help you manage spending.
Ordering a card for a team member? Limits allow you to set and manage your team's card usage, offering more control over spending.
When you order a new physical or virtual Holvi Business Debit Card you'll be prompted to set 30-day and daily spending limits.*
*Virtual cards have lower spending limits by default. As a result, virtual cards only have 30-day limits.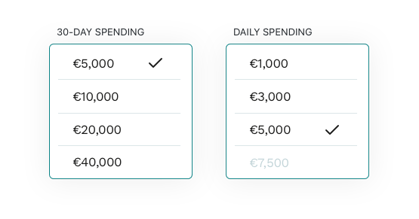 What about user roles?
Glad you asked. We're in the process of redefining user roles in Holvi so they work better for both freelancers and scaling companies. In the future, you can specify exactly who can change card limits and perform other actions in your account. This requires complex analysis of all functionalities and potential use cases. We're now researching the myriad ways our customers currently use and would like to use Holvi – want to pitch in?


Take part in our user research
Fill in this quick survey to help us understand how your business uses Holvi.
Can you add limits to existing cards?
Absolutely. To manage your current cards' spending limits, log in at Holvi.com and go to Account settings > Cards. Click on a card to view its details, then toggle to Limits. Click the Change limits button and to edit your limits.

Card labels
We also added card labels, a new feature that lets you label cards so you can easily tell them apart in Holvi.
How do card labels help you manage spending? Easy. Create different cards for different uses – for example, a Holvi card for subscriptions, one for travel, one for office supplies – and use labels to identify your cards. Labels are especially useful with Holvi virtual cards. You can order up to 5 or 10 virtual cards depending on your plan. Learn more here.
Labels are only visible in the Holvi app
Create cards for different uses and label your cards for easy spend management. Labels are not printed on physical Holvi cards. They are visible only in the app.
What's next for spend management?
Soon we'll be updating our home screen to give cards more visibility.
Keeping control over spending is a top priority for lots of businesses. Everyone develops their own little tricks to track and manage card spending effectively. That's why we're working to bring our spend management tools to the next level, offering new ways to control, view and analyse company spending. This becomes even more important as teams grow.
Virtual cards for teams
Speaking of teams and virtual cards, this month we released virtual cards for teams.
Empower your team with virtual debit cards. Create cards for individual team members and let them pay expenses right from your business account. Here's how it works.
Order a virtual card for a team member in a few clicks
Set custom spending limits and define usage
Their card activates instantly
Your team member can use their virtual card to pay online, or add it to Apple Pay or Google Pay for in-store payments. Whenever they buy something using their virtual card they'll be prompted to capture the receipt in Holvi, categorise the expense, then add VAT and bookkeeping notes – so your books stay ready for tax time.
No more time-consuming expense claims.
You can manage your team's virtual card spending limits, lock and unlock or deactivate virtual cards instantly to stay in control.
We launched our new Holvi Android app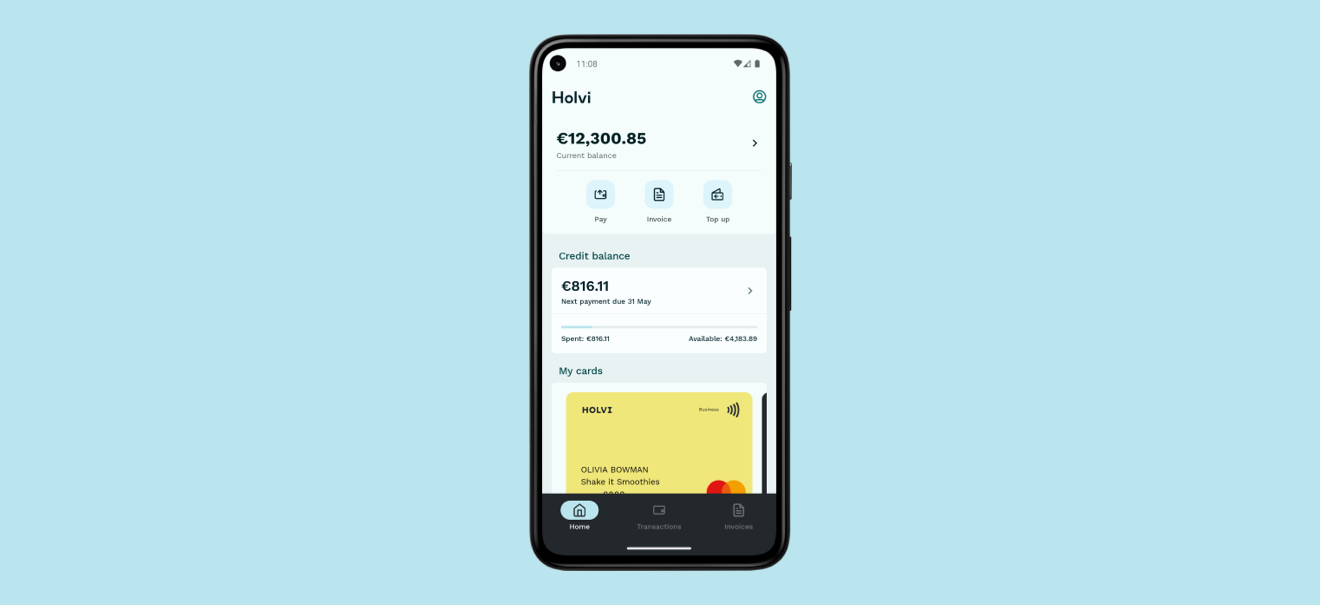 We sat down for a quick chat with Holvi's Senior Android Developer, Jesús Alonso, to talk about what's new. It went like this.
Holvi: Jesús, what's new?
Jesús: Oh lots.
Holvi: Go on…

Jesús: The whole thing is quite technical. We migrated from MVP architecture to MVVM. We migrated from classical xml layouts to "composables" (jetpack compose framework). And we are using material 3, the latest of the latest on Android UI.
Holvi: Right… but in plain English?
Jesús: It's smoother and more modern.
Holvi: Now we're talking! You mentioned "composables". Can you break these down for us?
Jesús: Think of "composables" as a UI component that's built programmatically depending on the input data, and not relying on hardcoded xml layouts. So basically composables are reusable UI components.
Holvi: Nice one. And these are better why?
Jesús: Composables allow us to build UI components faster, more easily and with fewer limitations. This has huge implications for Android development. We're working with cutting edge stuff now.
Holvi: And how does this compare to the Holvi app on iOS?
Jesús: UI-wise our new Android app is pretty close to iOS. In fact, sometimes it is hard for me to differentiate them.
Holvi: Interesting. Anything else you'd like to add?
Jesús: Just that our new Android app is more customisable. And after our recent bug fixes it will soon be more reliable.
Holvi: Neat, thanks!
Jesús: And we now support dark theme 🕶️
This is no small feat. Our development team has been working on the new Android app since last August, but are keen to note that many projects have been happening in parallel.
💳 Guide to Holvi Business Credit Card
To help you understand how our credit card works, we created our Guide to Holvi Business Credit Card. In it you'll find some in-depth explanations of core concepts, like what kind of credit card it is, how monthly payments are calculated, how interest works and more.
We'll share this guide in appropriate channels and update it continuously as we learn new and more effective ways to explain some tricky concepts.