In our last blog post we told you about what makes a great product picture. Now it's time to start doing! In this article we'll go through the practicalities of product photography: getting the proper equipment and creating the set.
WHAT DO YOU NEED?
1) A Camera
Technological progress has been staggering for the past couple of years and even the cheapest of cameras can be used to take professional photos. That's why you can take your product photos with the best available camera you've got instead of having to spend extra money on it. System cameras are often better than compact cameras or the cameras of smartphones, but at the same time it takes a certain amount of learning to be able to snap high-quality photos with them. If you are not a professional photographer it might not be worth your while to practice just for the product photos. Boldly go with the default settings!
If you do have a system camera available you can, instead of using the default settings, set the aperture as widely open as possible so that the focus of the photo is on the smallest possible area. This is called a small depth of field or a shallow focus. Doing so smoothens the background and makes the picture more pleasant to look at. A wide aperture allows photos to be taken without extra lighting, which of course makes the process a lot less cumbersome.
2) A Camera Stand
It's usually very important to use a camera stand (most often a tripod or a monopod) while taking product photos. If both the subject and the camera are still the photo will be sharper. You might be able to take photos that appear relatively sharp by holding the camera in your hand, but the photos will always be clearer when using a stand.
In most situations your camera would like there to be a bit more lighting than is available. Hence it's a good idea to employ a longer exposure time. The default settings of many cameras do this automatically when you're snapping photos in a dimly lit space. For these reasons too it's important to use a tripod.
Pressing the shutter button (or the virtual button on a smartphone) may cause the camera the shake a bit, making the photo blurrier. Hence it's recommended that you use a self-timer even when you're not taking selfies.
A camera stand is cost-effective investment. The cheapest stands cost upwards of 20 euros and fulfill their role perfectly well. A bigger stand is required for certain photos and environments, but for example the Gorillapod is a small and handy solution for the occasional photographer. Stands exist for smartphones too. Remember to check compatibility with your device!
3) A Background
When you use a built-for-purpose background while taking your photos you minimize the amount of distractions in the photos and can easily snap all the photos you need in one go. The simplest color choice for the background is either an evenly toned light color or a light grey. The background should relate well the subject of photography: a very light product will not stand out enough from a white background, nor will a dark product from a black background. The background is perhaps manufactured the easiest from either paper or from textiles, depending on the size of the product. Many paper stores sell papers suitable for this use. Or then you can simply use an ironed bed sheet. Be sure to iron the sheet beforehand as wrinkles are easily spotted from photographs. The wrinkles are not that big of an issue if you have a camera which allows the aperture to be widened, making the background less sharp.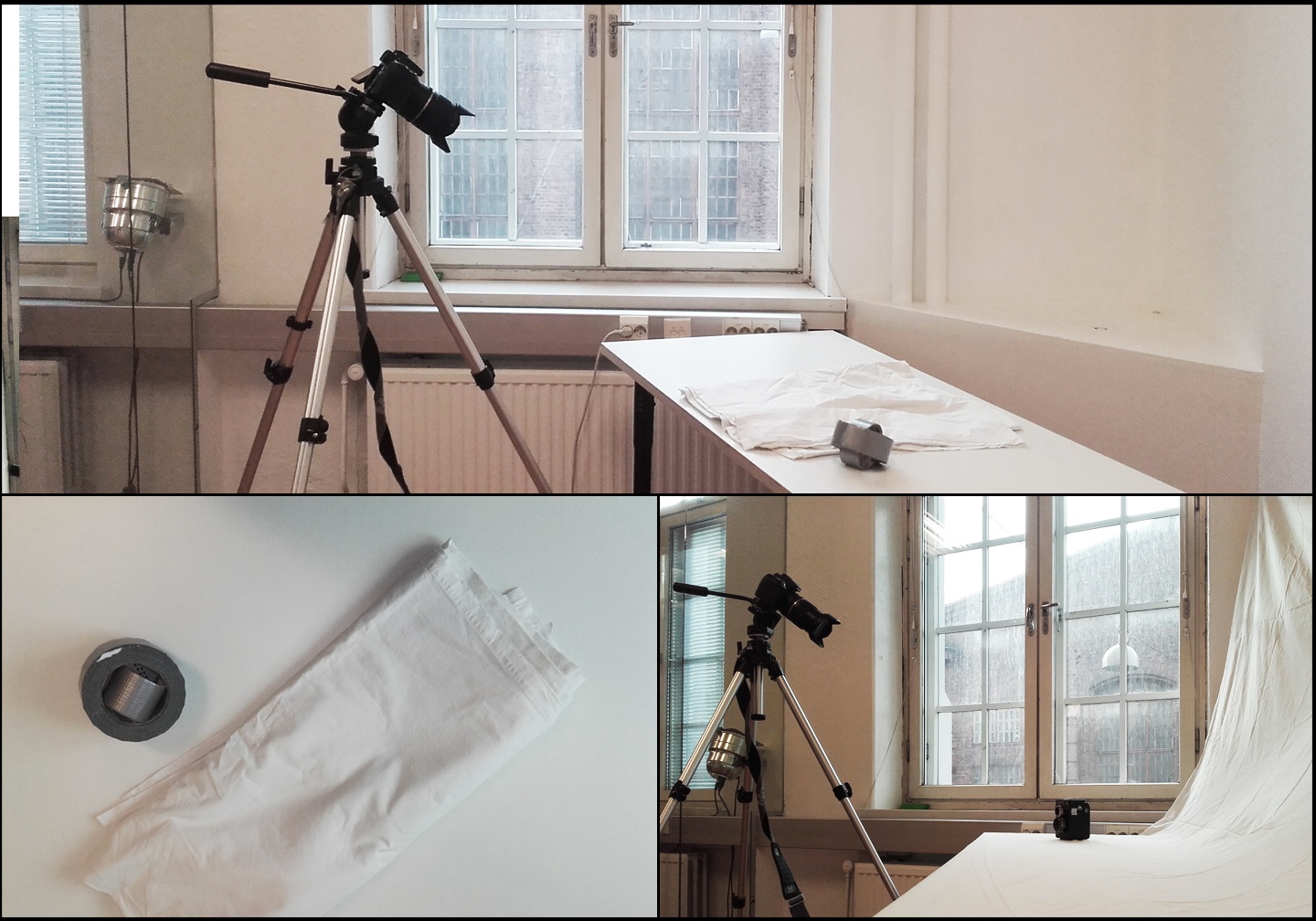 The background should extend under and behind the product. This allows you to take photos from angles which make the product stand out well. This is done easily by setting the background on a table and on the wall behind it. The traditional angle for taking product photos is slightly downward. Feel free to experiment though!
How to Organize the Set
The most challenging single thing about organizing the set is managing the lighting. Putting up a white background and getting the equipment is quite cheap, and photographing a stationary subject is relatively easy. The biggest difference between professional and not-so-professional shots is the lighting.
When it comes to the quality of the photos it is of utmost importance to get enough light into the photos and to have the light spread out evenly enough through the photo. Using a single source of hard light often causes dark shadows to appear, which can be a distraction in a photo. As discussed in the previous blog post, expensive lighting equipment can be hard to come by and regular flashes create awful photos. That's why you should use natural lighting as much as possible!
Set your subject near a window and let the light pouring in be your main source of lighting. Under optimal circumstances no artificial lights would be cast on the subject as artificial lights have a different hue compared to natural light. Different hues make the picture blurry and can mess up with your camera's settings. If the light coming from outside is not enough (because of e.g. bad weather) you can try using the lamps you have at home as extra sources of lighting. Make sure to check that the hues of the pictures have not become distorted.
You can also set the background against the window so that the sunlight illuminates the background beautifully, also casting an even light to the subject. In case you let sun shine directly to the subject you might want to employ a reflector to smoothen the shadows. Any white or reflecting material which you can set next to the subject can be used for this. Tinfoil is an excellent material for homemade reflectors.
How to Edit the Photos
In the days before digital photography each and every photograph had to be developed separately. Even though the digital age has removed this need the editing process is still a vitally important part of taking great photos. Luckily many simple (and cheap) tools exist to aid you in this!
If you're not an experienced editor of photos you most likely don't have any software suitable for this. These days several free photo editing programs exists. Many of these you can use straight through your internet browser. Try googling for example for free online photo editor. Tools like those make it easy to edit the colors, the lights and the contrast of your photos. Most programs allow you to easily manage these settings with gliders, allowing you to experiment in your search for the perfect settings. Remember to avoid over-editing! Unless that's an essential part of your style…
Downloadable programs exist too, of which the most popular one is Gimp. These programs are usually more advanced than the browser-based ones, and they include similar functions such as e.g. Adobe Photoshop. Making the background lighter or changing it completely is one of such functions. However it defeats the purpose to spend hours learning the ins and outs of photo editing because of a set of product photos. Luckily the task can be outsourced!
Services exist which can make the outsourcing of minor tasks such as photo editing easier. For example from Fiverr you can find a person with 5 euros to edit your photos. Some larger companies offer similar services: https://www.misterclipping.com/en/
Have fun shooting!
---
Holvi offers an online current business account for freelancers and small business owners — the first of its kind, with an app and an end-to-end platform. Besides traditional online banking features, Holvi is equipped with handy tools for online sales, invoicing and paperless bookkeeping. We're a modern money service for the new wave of digital nomads.